Its been about a month since the Holiday Valley event and we all kinda got a taste of what this new league had in store for us.  Apparently Stop #1 was just a warm up because at The Big Boulder Event some crazy talent showed up to throw down and these kids were snowboarding at a super high level. The BAR has officially been raised!
Unfortunately the weather did not want to compromise with us, as it rained and sleeted the whole day. We were able to push through with the event for the most pat except for the Big Air Jumps were to sketch and icy so we ended up moving over to the "LOVE" section of the park to get some jumps in.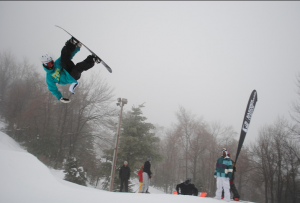 The riders weren't holding anything back throwing anything from Rodeos to old skool lawn darts. Either way it was super fun and entertaining to see these riders so amped and going super BIG!  Guys like Peter Pape, Billy Keil, and Kade Madsen were just technicians at Big Boulder. They were throwing ridiculous tricks and just landing everything. It looked like Billy Keil had magnets in his board, he was painting every inch of every rail in the park.
At the end of the Day though it all came down to the Judges.  I felt bad for those guys because everyone was snowboarding so good, it was just seemed impossible to rank these guys. After about an hour of careful deliberation the judges finally came out to announce the winners.
In the youngblood division Brian Watson took 1st place, Mickey Whitaker took 2nd, and Scott Hopper took 3rd.
In the Destroyer Division Peter Pape took 1st, Louis Hanft took 2nd, and Billy Keil took 3rd.
As hard as I'm sure it was to make these rankings, I was a little disappointed not to see Kade Madsen in the Top 3.  He was shredding just as good as anyone else out there but I guess he got overlooked by the Judges. Or maybe the judges were looking to make this thing interesting  Now coming  into the final event at SEVEN SPRINGS 1st place is up fro grabs and its still anyones game!