The Vert team and Forum team packed up the truck and headed due North.  After 7 hours, a pit stop at Mickey D's, and almost running out of gas in the middle of I don't know where(Junior get your fuel gauge fixed) we finally show up to Ellicotville, NY home of the……uh well not sure but the people were pretty rad. Pat Morgan was nice enough to let us crash at his pad for the weekend so the only thing we needed to focus on was making sure the First Eastern Snowboard League event killed it!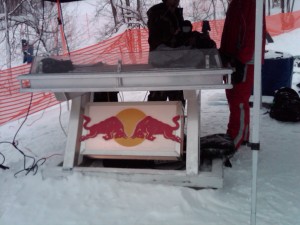 The Morning of the Event we were on the hill at 7am setting up signs and banners and getting the place all steezed up. Redbull was there setting up there DJ Booth and tent and was making it rain with free Redbull. Vert had tons of sign up all over the hill but apparently management did not like our "F*ck Plastic" motto so they made us take down half our signs. Wish we would've known that was gonna happen.
We got everything all set up and @ 8:30 the registration room started to have a line out the door. We had between 60-70 event participants and 9 or 10 of them were girls. We were so stoked to see some chicks involved but when planning the event didn't think about the possibility of girls showing up so we had to create a Snow Bunny Youngblood division on the Fly.
Some kids were so stoked about the Eastern Snowboard League that they came in some pretty Gnar costumes. Unfortunately Judges did not give bonus points for enthusiasm and attire.
The Eastern Snowboard League event is made up of two components. Rail Jam and Big Air. You had       3-4 runs in each part of the park. Big Air was the first part of the competition. None of these kids were holding back at all. Whether you were in the Destroyer division or the Youngblood Division they were throwing it down and didn't care about the consequences. We had kids coming in switch trying to pull 9′s, rodeos, backflips, you name it….it was thrown. At the end of the day though it is about consistency and Kade Madsen was all about it. He landed 3 out of his 4 runs, all super technical and so cool, calm, collected in the air.  Then we went to the Rail Jam and this time there were a few guys who were killing it.  Peter Pape, Cody Voit, and Travis jones all brought there "A" game with some pretty tech maneuvers with a lot of steeze. As good as everyone shredded Kade just kept taking it to the next step upping the difficulty level and pulling it off smoothly and steezy. Thats why it was no surprise when Kade took 1st on the podium and brought himself one step closer to Super Park!
Check out the Eastern Snowboard League Video